Tuesday morning was the start of our road trip. Kerwin, Dan, Ryan, and I took a cab to the car rental company to pick up our cars. Kerwin and Dan were helped first, and got the Golf Polo they had reserved. Ryan and I were helped next. The rental company was out of Polos, so got a free upgrade to an X3 instead. What a shame

. We found our way back to the AirBnB with only a few wrong turns (signs in Bergen were slightly misleading). The Polo was too small to fit all of KLAD's bags, so we put half of them in our X3.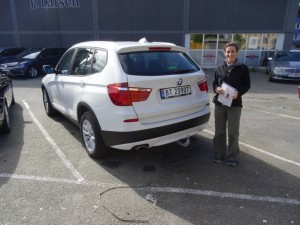 We hit the road and drove about 15 min to Fantoft Stave Church. Stave is a style of architecture, after the English word 'staff', describing the columns that hold up the church. We visited a few of these types of churches in Norway. This particular church was a replica rebuilt after the original was burned in a fire.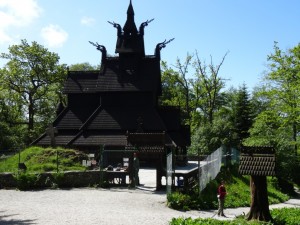 After the church, we headed to Stavanger, our destination for the evening. The drive took us through 2 ferry crossings and a bunch of really long tunnels. The longest was around 8km. Many want down for the first half (at a 7 degree grade) and then back up for the second half. As I learned on the trip, Norway is known for their tunnel construction.
Once in Stavanger city proper, we got lost finding the AirBnB. This turned out to be a recurring theme throughout our driving experiences in Norway. We finally found it, moved the car 3 times because we couldn't figure out from the street signs if we were legally parked, and unloaded our luggage. We headed across the street to the grocery store to pick up sandwich ingredients for the following day. Not obvious, was that there were actually two grocery stores across the street. We walked into the first one, split up and walked around. Something wasn't right with this store, it looked familiar, but not quite 'normal'. Turned out, we had walked into the Asian grocery store. No wonder we couldn't find bread and deli meat! We headed next door to the typical grocery store, and purchased the necessary sandwich-making materials.
Loan found us a great restaurant for dinner called Matbaren. Of course, we got lost on the walk there.
Back to the room for an early bed-time, cause the next morning was a very early start. Oh yeah, I should mention that, as is typical on vacation, Ryan was already sick. He caught a cold from Loan he thinks. At least we weren't in a third world country, so no IV needed, just annoying sneezing, stuffiness, and congestion.