Though we felt good when we arrived, it was pretty obvious we were a bit jet-lagged when everyone (even Kerwin) slept in late. Ryan and I woke up around 10:30am, made some breakfast in the room (after purchasing supplies at the 7-11 down the street the night before), and were ready just in time to make the noon walking tour. The walking tour was less walking than expected, but was still interesting. The guide took us through the Bryggen Museum, describing the many fires throughout the years that had burned down much of Bergen and viewing remnants from original buildings.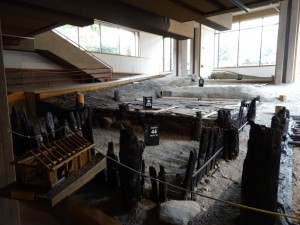 Similar to parts of New York, the parts of Bergen closest to the water are built on landfill. When a fire occurred, the rubble would be pushed into the water and new buildings would be built on top of that. She then walked us through the Schotstuene (old assembly hall) ending at the Hanseatic Museum.
After the 'walking' tour, we did some more walking; to the train station to pick up tickets for the following day, past the lake, some art museums, around Johanneskirken.
There was a slack line setup near the lake.  This is about as far as we all got before falling off.  Pictures courtesy of Loan.
Kirken means church in Norwegian, and we visited a few of them in Norway. We don't quite understand why, but all the churches in Bergen were closed on Sunday afternoon.
Mariakirken, a big church in the center of town, had been closed down for renovations and had a special opening this evening for an organ recital. It was a new organ that had just been installed, and the builders of the organ were in attendance. There were a few presentations before the recital (all in Norwegian, best guess was thanking the people who donated $, thanking the people who built the organ, etc). The organ sounded great. But there isn't really much to watch during an organ recital, since the organist plays from the 2nd floor back of the church. I'm pretty sure all of us fell asleep at some point during the recital.