Sunday was a slow morning, finally starting the drive to Ringebu around 11am. Amazingly, I have found traveling companions that are even slower than Ryan getting going in the morning. I really don't mind, though, because it makes for a relaxing trip. Most of the day was spent driving. In addition to the 'normal' cars mentioned in an earlier post, we have seen a very large number of Teslas and American muscle cars. We made a stop at a few churches along the way and a cemetery that (we think) had a lot of the Kostad ancestors.
Church and cemetery with Kostad ancestors.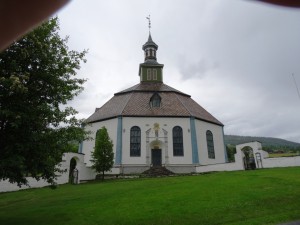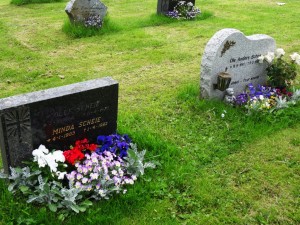 We rolled into Ringebu pretty late, after most restaurants and grocery stores had closed, so we picked up Chinese takeout on the way to the AirBnB. This AirBnB was absolutely breathtaking! It was the second house on a farm, where the grandparents used to live. The houses overlooked a beautiful green valley and lake.
The mom was there when we arrived and showed us around the house using the little English that she spoke. Amund, the son, who we estimate to be a little younger than us, arrived a little while later. He was the one who had put the house on AirBnB, and we were his first visitors! Amund had been an exchange student in California during high school and then attended a small college in Michigan. The family invited us to eat dinner out on the porch of their house next door. While we ate our Chinese takeout, they brought us out local delicacies to try, including aquavit (potato liquor), cured pork, potato crisps, and beer and wine.
The house itself was an interesting mish mosh of stuff.