Saturday was spent wandering all around Alesund. First stop was the Alesund Church. The person at the tourist info office said it would be open, but as is typical with our church experiences on this trip, it was closed. On to the Art Noveau Museum, which housed interesting exhibits on the various styles of architecture, the fire of 1904 and rebuilding of the city, and the impact of Japanese influence. In the corridor to the June Art Museum, Loan, Ryan, and I stopped in the kids' activity center to make some of our own art. I know art is subjective, but the items in this museum were not what I would call art. The thing closest to art was a sculpture that looked like a bunch of breasts stuck together.
We were all getting a little museumed out, but headed to the Aalesund (alternative spelling of Alesund) Museum anyway. The museum was 3 levels that took us through the history of the city. The most interesting parts were about WW2 (still not sure if the Enigma machine on exhibit was a real one) and the Uerad life boat that crossed the Atlantic in 5 months in 1904. There was a replica of the life boat that we could climb into. Tight quarters for a rocky trip on the Atlantic! Dramamine would have been a necessity on that trip.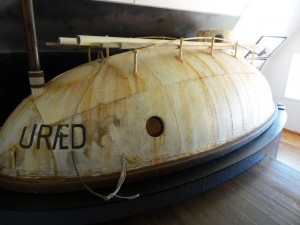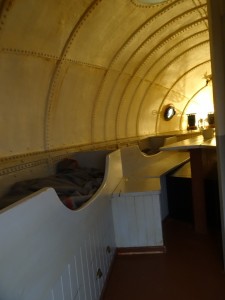 The rest of the afternoon was spent climbing 418 steps up to Fjellstua for nice views of the city, followed by an evening kayak trip around the harbor. Dinner was late, like most of our dinners in Norway, since 10pm feels like about 6pm. Loan and I shared a few dishes, including whale and reindeer. Not bad, but neither make my favorites list.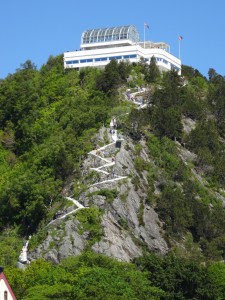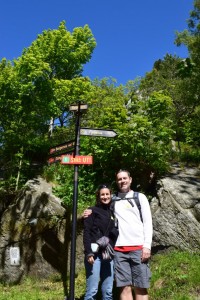 Interesting and slightly freaky carvings on the way down
Wondering if the REAL Amazing Race passed through here. I don't watch the show, so I guess I'll never know.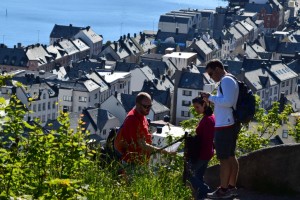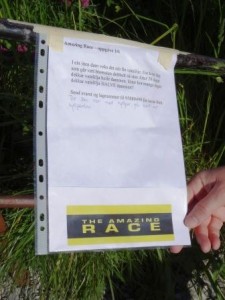 Cars we did not expect to find in Norway.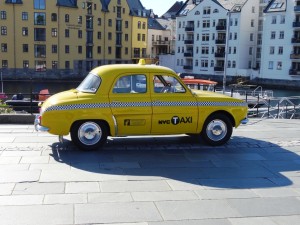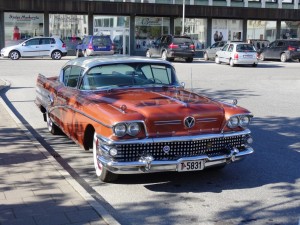 Kayaking around the bay before dinner.