Our biggest adventure to date!  Ryan and I have lived in our house for 11 years now.  About half of the interior has been painted and almost none of the rooms have been decorated.  Since we were spending this holiday at home with not a whole lot planned, we decided to paint and decorate the guest room.  On closer inspection, this quickly turned into a larger project than expected.
Day 1: Christmas Day

Tape the moldings with blue painters tape
Realize that the drywall tape has separated from the walls in at least 2-3 wall/ceiling or wall/wall corners -> Trip to Home Depot for drywall tape, joint compound, and necessary tools
Spend a typical Jewish Christmas with Les and Steve – Catch the new Star Wars movie and enjoy some Chinese food for dinner
Day 2:

Pull down all the peeling dry wall tape
Sand away excess tape and joint compound
Find that there are large gaps (1/4″ to 1/2″) between the drywall at the corners of the room -> Trip to Home Depot for spackle
Rent The Second Best Exotic Marigold Hotel (Nicole's choice) and eat leftovers for dinner

Day 3:

Fill in large gaps with spackle – Wait 12 hours for it to dry
Rent Antman (Ryan's choice) and make mushroom barley soup for dinner
Day 4:

Sand spackle
Apply layer of joint compound, smooth drywall tape on top, apply a second layer of compound on top of drywall tape – Wait for it to dry
Rent The Woman in Gold (Nicole's choice) and make vegan spinach and mushroom quiche for dinner (not bad, needs some work)

Day 5:

Sand joint compound
Apply a second layer of joint compound – Wait for it to dry
Ramen dinner out, followed by trip to Home Depot for paint
Day 6:

Sand joint compound
Spend 2 hours trying to match the texture on the ceiling and walls – Finally give up and do the best we can
Paint the ceiling – Wait for it to dry
Day 7: New Year's Eve

Tape the ceiling and go over edge of tape with the ceiling paint (cool trick I learned to get nice clean paint lines between the ceiling and walls) – Wait for it to dry
Paint the walls -> Ryan makes a trip to Home Depot to get another gallon
New Years celebration with friends!

Day 8: New Year's Day

Homemade breakfast tacos and mini cinnamon sugar muffins for breakfast
Decide I want the shelves in the closet painted white – Repaint shelves in closet (Ryan is a saint)

Day 9 and 10:

Clean-up and put the room back together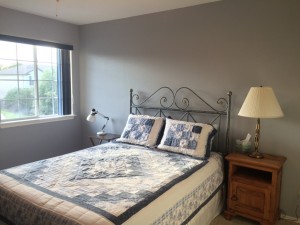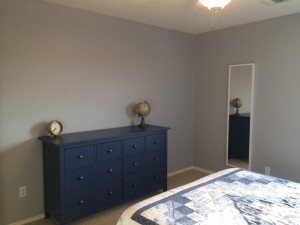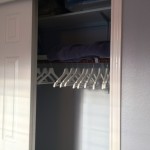 Furniture and decor still a work in progress . . . 7 months later.  Maybe we will get to that next Christmas.