Another driving day, though a short one, from Clifden to Galway with a few stops in between. First stop was the Roundstone Music Shop, housed within an old Franciscan Monastery and home to one of Ireland's famous Bodhran makers, Malachy Kearns. Bodhrans are traditional drums, all made by hand in the shop. Malachy runs the shop, and we had the opportunity to talk with him and have him sign our Bodhran. He said that unfortunately, with all the cheap goods from China, they don't really make enough on the drums any longer to have a sustainable business, but that it is still his passion. He loves to travel and has met a lot of very friendly Americans and would like to retire to the U.S., preferably Laguna Beach if he could afford it. How funny!
We then stopped at Aughnanure Castle, an old Tower House ruins. As we have since learned, Tower Houses were rather common in the 1500s. They were multi-story towers surrounded by one or two walls and then typically some sort of moat or other water (lake, river, stream). The first floor was used to store grain and other food. The upper floors were then used for eating, sleeping, and hosting guests at banquets. Wealthy families that owned animals would bring the animals inside the stone walls at night so they wouldn't be stolen. The Aughnanure castle had a murder hole, basically a double door, with a grate in the ceiling above the area between the two doors where enemies could be trapped and shot from above. It also had a garderobe, a chute on the side of the castle, used as a toilet. Disgustingly, the people of the time thought that excrement could be used as a disinfectant and would sometimes hang their clothing in the chute to cleanse it of bacteria. Gross!
McDonagh's fish and chips counter, recommended in both the NY Times 36 Hours in Galway and Lonely Planet was a must for dinner, though Ryan and I opted for the restaurant side with slightly healthier fare, starting with grilled Gigas Galway oysters and a fried fish skewer followed by grilled salmon with mash and veg, as it is called here. Based on the food available and how we have been eating, ie. full Irish breakfasts, lots of pastries and scones, food with cream and cheese, we wondered if Ireland had an obesity problem like the U.S. A quick Google search turned up an article stating that according to the WHO, Ireland was on track to become the most obese country in Europe by 2030. No indication of why, food vs lifestyle, etc, and no comparison to the U.S., which probably still has higher percentages of obesity than Ireland.
Afterward our not quite so bad for us meal, we walked down the main pedestrian thoroughfare of pubs and restaurants, crowded with people and lots of street performers. The crowds were slightly reminiscent of our stay in Beijing, though not quite as crowded and not nearly as chaotic.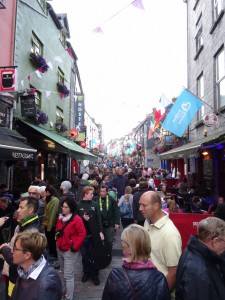 Correction posted 8/16/2016: The correct term is 'garderobe', not 'gardenrobe'.