Another day with a lot of driving! This blog is getting repetitive in that respect. According to GoogleMaps, the drives are not that long. However, it does not appear that GoogleMaps takes into account the windy narrow roads, where one cannot actually drive the posted speed limit, or tractors, sheep, or cows in the road slowing forward progress. More from Ryan on driving later, he plans to write a whole blog post about it.
Nothing beats the convenience of having a car though. First stop, a last minute decision since the route took us right past it, was Dunguaire Castle. It turned out to be another Tower House, interesting in that it had been updated a few times since originally being built in the 1500s. The tower hosts traditional banquets, but I read they were very touristy and envision something like Medieval Times.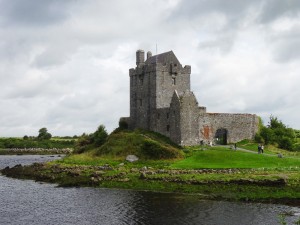 We then passed a sign for a chocolate factory up the road, and of course Ryan and I had to stop! It turned out to be a cute place that buys their cocoa beans from around the world including Madagascar, Cuba, Venezuela etc and makes all their chocolates in house. We sampled the Madagascar dark chocolate, which was surprisingly complex, with a description one would expect of a wine.
The Cliffs of Moher was the highlight stop of the day. Similar to Dun Aengus, this is an amazing natural location on the edge of the Atlantic with cliffs dropping straight off into the ocean. The weather was slightly better than the previous day, but still very windy. It is definitely a bit freaky standing on the edge of a cliff with those strong gusts! We did a little off-roading along the trails to get some good views of the cliffs. Unfortunately, we did not see any puffins, the clown birds of Ireland that live in the area. The visitor center at the cliffs was built into the landscape and reminded us a bit of the passage tombs.
We finished up at the cliffs just as it was starting to rain, and began the long drive to Kenmare. During a stop at a pub in a small town for lunch, we had the opportunity to watch the Irish O'Donovan brothers earn the silver medal finish in the 2 man lightweight sculls (rowing). This was the first medal for Ireland at the Rio Olympics and the first medal ever in rowing for Ireland. The locals in the bar were ecstatic and it was a lot of fun watching the event with them. We heard about the event over and over on the radio for the rest of the day.
A warm welcome from Mary greeted us at our B&B in Kenmare. We dropped our stuff and walked into town to grab a light dinner, becoming entranced by the 20 km Olympic speed walking event on TV.