As the title indicates, the weather was absolutely gorgeous, high 60's and sunny with a light breeze. The yearly Kenmare Fair is August 15th, and we walked around it before heading out. Very interesting to say the least. It takes place in the downtown area and has a rather odd variety. The stores setup displays on the streets. People come in and set up a ton of displays with odd random stuff, ie. antiques, used power tools, clothing, cheap plastic toys, and knock-off purses. And then there are the animals. One street is just full of animals to be bought and sold; horses, sheep, goats, cows, puppies, ducks, chickens, turkeys. The cows are not even tied up, just herded against a fence. It took some diligent steps to avoid all the 'land mines' on that street and we wondered how exactly they clean it after the fair.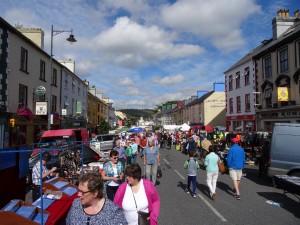 Today was a relatively short drive up to Cork, with a few stops along the way. First was Kinsale, a beautiful harbour town, reminiscent of Sausalito, as one travel books said, and I concur. Again, the weather definitely helped.
St. Multose Church.
We wandered around the harbour, got some lunch, and then drove out to Charles Fort. Built in the 17th century by the British as a military fort, it is tucked into the side of the harbour and is deceivingly large. From the road, it doesn't look like much. It isn't until we were wandering around it that we realized the full expanse.
After that, we drove around the harbour again (we basically drove around the Kinsale harbour three times in the course of a few hours) over to the Lusitania Museum. Kinsale was the closest land mass and first responders when German U-boats targeted the Lusitania cruise ship during WWI. The museum wasn't much to speak of, not what we would consider a museum. But it was shared with the Old Head Signal Tower on almost the tip of the peninsula and offered some great views. The actual tip of the peninsula is a private golf course. You are out of luck if you hit the ball into a water trap there :-).
The drive into Cork took us on a variety of roads, from single-lane two-way traffic to almost highway like. We have seen a lot of people biking in Ireland, even in the crappy raining windy weather. They bike on the hilly, narrow, windy roads, which looks very difficult and dangerous. They bike on road that we would consider highways, again seems rather dangerous. Sometimes they wear helmets, and sometimes they don't.
The food in Ireland has been delicious (post on soups to come at a later point), but I was going into fresh veggie withdrawal. Luckily, as we get into the bigger cities, I've been able to find more salad options. We happened upon Oliver Plunkett's for dinner, where we sort of branched out from the traditional Irish fare, Ryan with roast chicken, and me with soup and salad (I said sort of). By chance, there was live traditional Irish music with a banjo and Bodhran. After the musicians finished, they taught whomever was interested how to play the Bodhran. Of course I took them up on that offer, and Ryan got dragged into it. What fun! Both of the musicians had also been to Austin touring with music groups on the past.