What started out overcast turned into an absolutely gorgeous day. First up was Killarney National Park, where we hiked (more like walked) the Muckross Lake Loop Trail, a mostly quiet and peaceful trail around, you guessed it, Muckross Lake. We practiced our speed walking technique for the second half of the hike, because someone had a full bladder and the half point bathroom was closed. The Muckross House is a Victorian mansion that can be toured, but we passed that up in favor of driving the Ring of Beara. Before heading out of the park however, took another short hike mostly up to the Torc Waterfall. Judge for yourself, but we were unimpressed. Panting up the path, we asked someone coming down (German I think) if the waterfall was up that way, he said yes, and that it was rather small. Guess we should have turned around then.
The Ring of Kerry is the well known tourist scenic drive and incredibly crowded with buses and people during the summer months. Ryan and I opted to skip this for the lesser traveled, but supposedly just as scenic, Ring of Beara. We didn't have time to drive the entire ring and opted to hit some of the sites a few locals had mentioned, driving through Ardgroom, a 'Tidy Town' winner wtih very colorful houses, down to Eyeries, across the peninsula to Castletownbere, up to Adrigole, and back across the peninsula over Healy Pass. Tidy Town is an initiative started back in the 1950's and focuses now on making the towns more environmentally friendly and better places to work and live. Because of it, most towns are very clean and have very colorfully painted houses downtown.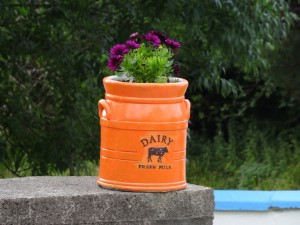 More scenic views, I think from Castletownbere on the east side of the peninsula.
At the top of Healy Pass.  We came up that narrow windy road.
Scenic picnic spot on the way home.
Ryan far exceeded his step count goal today, logging >26K steps. He brought his FitBit, mostly because it is also his watch, but it has been interesting to see how much we walk each day. With the exception of a slight miss yesterday (<100 steps short of his goal), he has met his goal each day, and the goal keeps increasing.
P.S.  Happy 1st Birthday Nathan!!  Can't wait to see you in less than a week!
P.P.S. We arrived home yesterday evening and are planning to finish the blog in the next few days to keep a record of our travels.  Ryan made it through Dublin with a slight cold, which got worse on the flights home, but it's always more comfortable to be sick at home.