The Whispering Pines B&B, our home for 3 nights, was recommended by Trip Advisor, Lonely Planet, and Rick Steves, and now we know why. The host Mary and her family are all incredibly welcoming, and it's more like staying at a relative's house than in a hotel. Mary runs the place with her daughter Kathleen, and the grandkids are helping out and/or running around during the summer. The breakfasts are all freshly home made and delicious. I had french toast with fruit 3 days in a row, while Ryan tried them all, the full Irish breakfast, french toast, and then scrambled eggs and smoked salmon on the last morning. Mary and Kathleen chatted with us during breakfast. They have a first cousin who's daughter lives in Austin and wanted to know if we knew her (we did not). They suggested some activities in the area and found us a local GAA (Gaelic Athletic Association) football match to attend. Kathleen also recommended a local self service laundry, very necessary since sock supply was running very low.
Walking back to the B&B with our clean laundry, we stopped at a cafe for coffee. I realized that I've only been drinking coffee if I can get it with soy milk, which is such a joke considering all the cheese, cream, butter, and eggs I've been eating on this trip! Guess it's just a habit.
The rest of the afternoon was spent driving around the Dingle Peninsula. Doesn't the word 'Dingle' just sound funny?  We stopped at Inch Strand, a beach that, while much colder in temperature, reminded us a bit of Port A, where everyone drives out and parks on the beach. There were also some crazy people actually out surfing in the water.
We then drove out to Dingle, towards the end of the penninsula, and caught a bit of the local Dingle Regatta races taking place. The drive between Inch Strand and Dingle was incredibly scenic, exactly what I pictured Ireland to be with green rolling hills.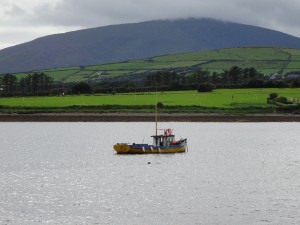 Our time in Dingle was cut short in order to get back to Kenmare for the football match. The drive took a bit longer than expected when traffic was stopped to allow the local cows to cross the street.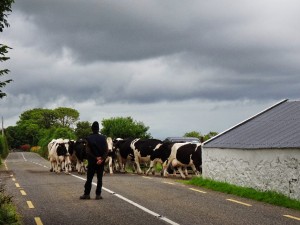 We watched a local senior level game between the Kenmare Shamrocks and Kerins O'Rahillys. Gaelic football is a bit of a mix between soccer and rugby. We spent most of the first half trying to figure out the rules, and then a local helped us out the second half filling in the blanks and describing out the scoring worked. The home team won! The field was in the most amazing location, with mountains in the background.