The flight to Dublin from Newark was very easy.  It's only 6 hours, which is great, quick, but doesn't really provide much time to sleep.  By the time they served dinner (mostly yuck), I'd say we got about 2 hours of sleeping.  I did something Ryan hates, booked an isle and a window on a 3 seat row.  (Thank you Nicoleo for that tip).  We lucked out and no one booked the middle seat, so we were able to spread out, and I got to sleep across two seats.
The flight landed before 7am in Dublin and getting through the airport took all of about 10 minutes.  All our luggage was carry-on, so no waiting at baggage claim.  No line at immigration.  And no customs.  I don't mean no line at customs, I mean literally, we could see where the customs check should be, but there was no one there, so no customs (this island is VERY different than New Zealand).
We picked up our rental car, a pretty sweet manual Volkswagon diesel Golf and headed off.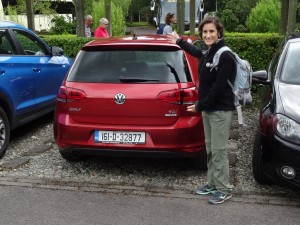 The plan was to stop at one site outside Dublin and then head straight up to our first night's lodging in Bushmills, about a 3.5 hour drive total.  The drive to Bru Na Boinne was easy.  Good thing we got there early!  When we arrived at 8:45am, there was already a line at the door for tours, and the visitor center didn't even open till 9am.  We got a spot on the 9:45am tour for Newgrange.  Bru Na Boinne is a valley in the Bend of the Boyne River known for passage tombs.  Newgrange is one of the three largest tombs, that you can actually walk into, and dates back to 3200 BC, which is crazy to think about.  The rest of the area is also dotted with much smaller tombs, which are identifiable by the mounds in the middle of the fields.  There is a window above the entrance to Newgrange, and during the Winter Solstice, the sun lines up directly with the window and lights the passage all the way into the tomb.  They replicate that with artificial lights for visitors, and you can enter a lottery to be on of the 150 people or so that gets to visit the tomb during the actual Winter Solstice.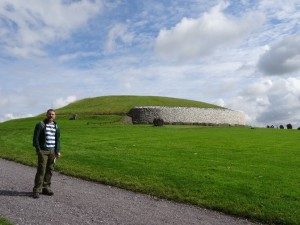 After the tour of Newgrange, we headed back to the visitors center for a quick snack and a short 'audio-visual' (movie) about the tombs, where Ryan and I both promptly fell asleep.  Oh well.  Once at the car, we decided it smart to take a short nap prior to more driving, considering we had only slept 2 hours the past night (and only about 4 hours the night before for Ryan, since he was busy trying to get the new router and VPN working).
We hit the road at about 2pm for Bushmills, for what should have been a 2.5-3hr drive.  Unfortunately, the primary motorway A1 was shut down for a short part a little bit south of Belfast due to a traffic accident.  In Ireland, as we learned later, the roadway is shut down for 24 hours after a traffic fatality.  The 'diversion' (detour) turned into a 3 hour ordeal of crawling traffic.  Shout out to Ryan at this point.  He not only was awake and taking part in activities the first day after arriving, but was patiently sitting in traffic for 3 hours when I know he was exhausted.  He was really a trooper, and luckily, still not sick yet on this trip :-).  After way too long, we finally arrived in Bushmills at 8pm.  Our lodging for the evening, Lismar B&B, was owned by a nice older couple, was very clean, with a nice bathroom.  We opted for a fast food fish and chips so we could get to bed as quickly as possible.