Nearing the end of our driving tour of Ireland, we drove on 'normal', almost highway like roads from Cork to Dublin, with a few stops in between. We made it to the Rock of Cashel just in time to catch one of the hourly tours, which was very interesting and informative. The Rock of Cashel has a variety of buildings, dating back to the 1100s, the oldest being the Round Tower. The entrance to the Round Tower is about 10 feet off the ground, designed for better stability so the structure wouldn't collapse. Also on the grounds is Cormac's Chapel, built in the Romanesque style with curved arches and details, St. Patrick's Cathedral, built facing the wrong direction to fit in the space available between the already existing structures, a tower house, and a cemetery, containing some very old tombs and some very new ones, as it is still active.
Cormac's Chapel
From the Rock of Cashel, we could see Hore Abbey(no, not whore abbey), named after the style of clothing the nuns wore, we were told.
Next was off to Kilkenney for a tour of the Smithwicks (pronounced Smiticks) Brewery and lunch. I learned that Smithwicks is probably Ryan's favorite beer. Who knew? The Smithwicks tour was a little gimmicky. First there was a Jedi dressed hologram that provided the intro. Then, there was one room where you learned about the history of the family and brewery through 'talking' portraits. I could have sworn we were in "Harry Potter". They kept blinking!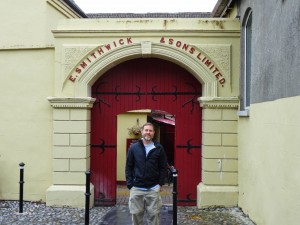 I drove the rest of the way into Dublin, luckily mostly on the wider roads and then through the city traffic in the pouring rain. Ryan agreed with me that even though I only tend to drive maybe 20% of the time we are going somewhere, I somehow wind up driving in 80% of the bad weather. Ryan was also very excited because our trip meter reached 2 megameters, which begs the question why no one uses the term megameters, but would instead say 2000 kilometers.
Our hotel directed us to park in a city parking structure across the street. I found a great end spot that I was determined to back into. Ryan was incredibly patient as I pulled in and out and in and out trying to get into that damn spot! Picture the scene from 'Austin Powers' and that about sums it up. It is very awkward looking over your left shoulder to back up!