Even though Egg brought breakfast back to the Airbnb for all of us, we were still running late and missed the Pest walking tour. Instead, we wandered over to St. Stephen's, where we walked around the cathedral and climbed (or road the elevator) up to the top for some good views of the city. The cathedral was built in the mid 1800's and dedicated to, you guessed it, St. Stephen, the first King of Hungary. Maybe all domed buildings are like this and I just never knew, but I found it very interesting that the dome visible inside the cathedral was not actually the dome on the top.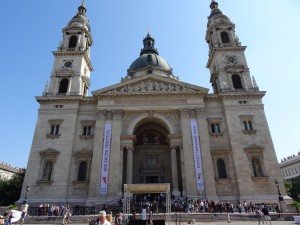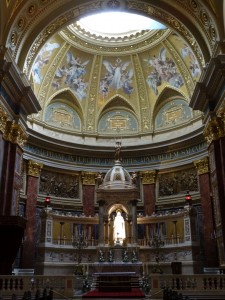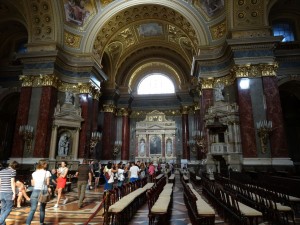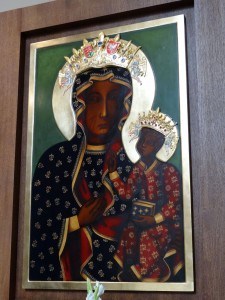 After St. Stephen's (or maybe before, I don't remember) we walked by the Dohany Street Synagogue. It was Rosh Hashanah, so no tours were occurring, but we could have entered to attend services. We were all surprised that they would let us in without having obtained tickets beforehand. Egg, Kate, and I considered returning on Tuesday to attend services, but decided against it, in favor of returning Wednesday for a tour instead.
Lunch was planned for the Grand Central Market, where we were also going to meet one of my CSC team members Attila. The bottom floor of the market was full of fresh foods one could buy, while the top floor was all food stands. Egg and Kate went up to scout it out, while Ryan and I met up with Attila. It was absolutely nuts upstairs! Egg and Kate were in line for langos, which Attila told us was really a snack, not a meal, since there was no meat in it :-). Attila also informed us that the food was all overpriced and only tourists go there to eat, though the produce and meat on the bottom floor looked reasonably priced. With that vote of confidence, we all decided to exit the market and find somewhere better to go.
Walking down the street we happened upon some restaurant that looked good, so we hopped inside. It was very helpful having Attila to help us decipher the menu and pick some good dishes. All around, everything was delicious! Egg and I shared some goose liver with tomatoes and potatoes, Kate got a pork knuckle, Ryan some beef stew, and Attila chicken with small dumpling like pastas. Attila and I caught up, and he suggested some good places for us to check out in Budapest. We also learned from Attila that Budapest has become the party city of Europe, with tons of bars and clubs, and a hot destination for bachelor and bachelorette parties. We planned to meet up again the following evening.
The afternoon consisted of a boat tour along the Danube and time spent on Margaret Island, a small island in the middle of the river. Once we found the boat, the tour was nice and relaxing. Apparently gates are different than piers, and our boat was departing from pier 7, not gate 7, so we spent 10 minutes walking in the wrong direction. The boat was almost empty, so we had good seats and good views of both sides of the river. The audio provided descriptions of the buildings and sites we were passing. We enjoyed Vienna, but Budapest is definitely the more scenic of the two cities.
Once at Margaret Island, we rented bikes and rode around the island for an hour. As I learned, this was a big step out of Egg's comfort zone, because he doesn't bike. I had no idea. But as he said, vacation is for getting out of his comfort zone. Either way, it was just like riding a bike, and he did great. The island is mostly park land, and we passed a ton of playgrounds that Sam would have loved. We also road through a small zoo, ruins of an old monastery, a musical well, and a Japanese Garden. Things of note about Margaret's Island: 1) It houses a bunch of sports venues, including a huge swimming complex that has hosted international events and 2) There is a rubber coated running track around the entire perimeter of the island, which, from our observations, gets good use. We enjoyed some post ride beer and snacks and hopped back on the boat for the return trip.
Obligatory photos with the Budapest sign on Margaret Island.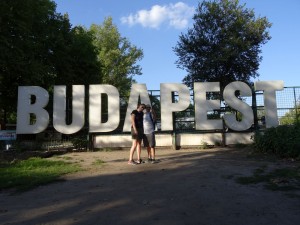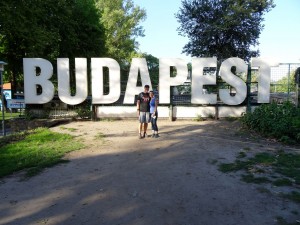 Egg picked a great place for dinner, the Karavan Food Truck Court. It was basically a small alley with about 10 food trucks. After a walk around, we decided on langos, purchasing beef and pork langos burgers (must have meat to be a meal) and two veggie langos pizzas. The food was all pretty good. The langos (sort of like fried dough) were much lighter than we expected, though it was still too much for us to eat. The pork burger was delicious, and the pizzas with goat or sheep's cheese and arugula or roasted red peppers were also very good.  Ryan was also able to pick up another chimney cake for dessert.
Right next to Karavan was Szimpla Ruin Pub, that Attila recommended we try. Ruin pubs are a hot thing in Budapest, basically bars setup in run down buildings, with a lot of junk tables, chairs, and who knows what else. The Szimpla pub was almost like a pub court, with what appeared to be different bars setup throughout the building, one with a full bar, another with craft beers, a stage with music (actually the same group we had seen at the Budapest Wine Festival on Sunday night), and I think some place that had food, cause I saw people eating pizza. There was a garden in the middle of the second floor. Egg and Kate went in for a beer, Ryan and I just took turns walking through, since we had water bottles that were not allowed in. I wish we could have returned in the daylight to get a better view of the inside.
Ryan and I wandered by the Dohany Street Synagogue on the way home and saw the memorial tree of life.