Egg and Kate made a game day call on Tuesday, and decided to take a monster scooter tour around the Pest side of the city. First bikes, now scooters! I don't even recognize my brother on this trip. They gave rave reviews and said it was a great time and their tour guide was awesome.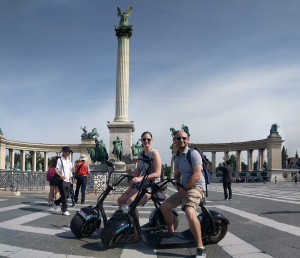 Ryan and I decided to sleep in and then head over to the Buda side of the city for some suburban hiking to a few sites. We visited the Cave Church seen previously from the boat tour, and then hiked up to the Citadel with the Lady Liberty statue. The Citadel is situated on a big hill in the middle of a park in the city, requiring us to walk up many many steps. Of course, we also could have taken transportation up to the top.
After the Citadel, we walked all the way down to the Hospital in The Rock. It was a lovely walk through a hilly suburban area, past parks and schools, with amazing views of the Pest side of the city.
The Hospital in the Rock was very interesting. It was first used as a hospital during WWII and then used as a nuclear bunker. The first half of the tour included the hospital portion, showing all the different patient rooms, operating rooms, surgical instruments used during WWII. The second half included a special exhibition about nuclear weapons, the horrible destruction they cause, and the nuclear threat still very present today. It included a description of the largest nuclear bombs held by countries today, 100s of times stronger than thos dropped on Hiroshima and Nagasaki, and a map showing the fall-out area if bombs were dropped on major cities around the world. Fascinating and frightening.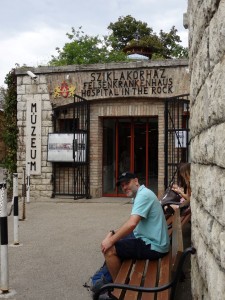 After that very uplifting tour, Ryan and I were getting hangry, and decided to walk to the Feny Street Market for some food. The market was definitely a local market, probably the least touristy thing we did in Budapest. It consisted mostly of produce stands and meat counters, though we did find one counter serving food. We ordered a traditional langos, with sour cream, cheese, and garlic. After a few bites, we had both had enough. It just wasn't an enjoyable feeling to have that much fat in our mouths at one time. We finished our afternoon with a walk through the mall attached to the market, picking up a small Politie car with a siren and lights for Sam.
The evening plan was to catch an organ concert at St. Stephens, but that was quickly scrapped. We got to the cathedral, found out tickets were $25ish per person, they only took cash, Kate went to get some out of the ATM, her Discover card was denied, and we all decided to bail.
Kate and Egg went back to the Airbnb to sort out the card issues. It was a hassle, but luckily Kate got it all resolved via Twitter of all things. Ryan and I went to Pontoon, a bar on the river, to grab a bite and meet up with Attila. We had some pizza, drinks, and tried Palinka (yuck). There was some live music at the bar, so it was more crowded and noisy than usual, and Attila suggested we move to a place next door after finishing a round of drinks. The second bar was awesome! We sat on Adirondack chairs on the beach overlooking the river, just chilling and chatting.
Attila educated us on Hungarians' favorite parts of U.S. pop culture.
– Hungarians love the show Dallas, and play a drinking game to it.
– They also love Colombo and have a statue of Colombo and his dog in a city park.
– American Pie, specifically the Stiffler character, was a big hit in Hungary, and there are many bars called Stiffler.
– Hungarians swear much more creatively than Americans, saying things such as "I cut off your head and pee in your neck".
We stayed out much longer than expected but had a very fun evening!