Wednesday was our last day in Budapest, and we packed it with sites and fun. First stop was the Dohany Street Synagogue, where we took a tour, learned the history of the synagogue, visited the gardens with the Tree of Life Memorial, and listened to a Klezmer band. The synagogue is the largest in Europe. The architects did not know what a synagogue should look like, so they built it like a cathedral, with an organ and the small raised pulpits on the sides. The synagogue was bombed during WWII, and Estee Lauder and Tony Curtis provided a large percentage of the funding to restore and renovate it in the 1990s. We really enjoyed listening and clapping to the Klezmer band that played in an auditorium on the grounds.
Next up was the parliament tour, that Egg scheduled in advance because it is so popular! The House of Parliament, as can be seen in some of the previous photos posted, looks more like an ornate castle than a government building. The building was gorgeous and filled with gold decorations.
After the tours, we grabbed some delicious lunch and went to checkout the Szechenyi Baths for some relaxing before the day of travel ahead.
The baths were huge, with 18 hot pools (indoors and outdoors), saunas, cabanas, massage rooms, and who knows what else. It was actually a surprise that we all found one another, after going in different entrances and splitting to go to locker rooms. We settled into a large outdoor pool, alternating between floating in the water and cooling off on the chaise lounges, and doing lots of people watching. Ryan was introduced to the European style of women's bathing suit, not quite a thong, but also not quite covering all of the wearer's tush either. What a great way to finish up our vacation! (I mean the baths, not the bathing suit bottoms) :-).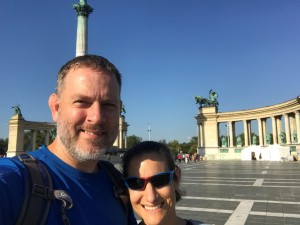 The evening was spent snacking on leftover sausage, cheese, and bread, packing, and taking a walk out for rose gelato.
The currency in Hungary is called the Forint, but being Americans, we kept referring to it as Fortnights.