Saturday morning started with a full Irish breakfast, including a fried egg, bacon, sausage, potato pancake, and black and white pudding for Ryan, and some scrambled eggs with mushrooms and toast for me.
First stop of the day was the Carrick-a-rede rope bridge. We hiked out to and across the bridge to a small island. Honestly, the pictures I had seen of the bridge made it seem much longer and higher than it actually was. I was slightly underwhelmed.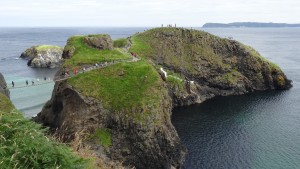 Second stop was Giant's Causeway. Before hiking, we ate some lunch in the cafe. All of the tourist attractions have pretty good cafes, and, as you'll see, Ryan and I stop to eat frequently. Ryan had seafood chowder, which was incredible. I had some tomato soup, which was also pretty good. And both came with Irish brown wheaten bread which was very good (we haven't quite figured out what this is yet, grainy, buttery, and sweet though).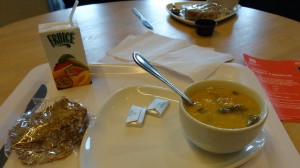 After filling our bellies, we hiked out to Giant's Causeway and then up along the cliffs to get a view from the top. Unlike the rope bridge, the causeway was really a natural wonder. It was formed by a volcanic eruption, creating interlocking basalt columns. The columns are broken up into many pieces, that fit like ball in socket, so some are convex on top while some are concave. Most of the columns are hexagonal. It's just amazing to think that something like that was formed by nature and not carved by humans. The Irish have some rather ridiculous legends around how Giant's Causeway was formed, which I won't bother to repeat here.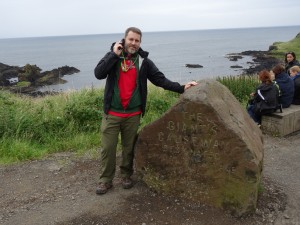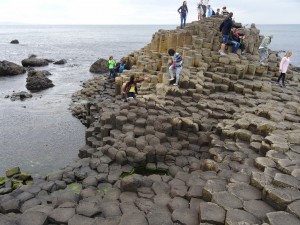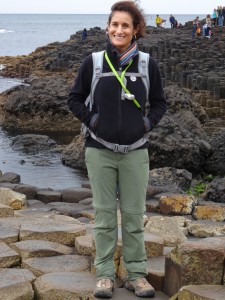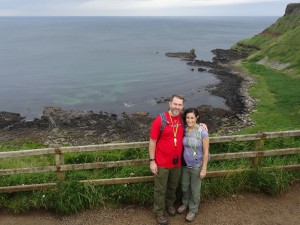 Throughout the hiking and driving, we've been seeing a lot of painted sheep.  Have not yet figured out why.  Some are blue, some are pink, and some have both blue and pink.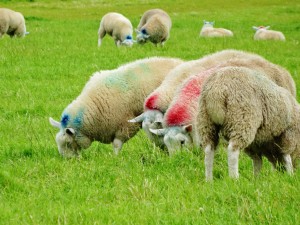 It was already starting to get late by the time we finished hiking, but we couldn't pass up stopping by the Old Bushmill's Distillery. Luckily, we got there right in time for the 3pm tour and tasting, including the 10 year and 12 year single malt. We were in agreement that the 12 year was much smoother than the 10 year.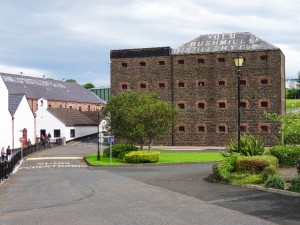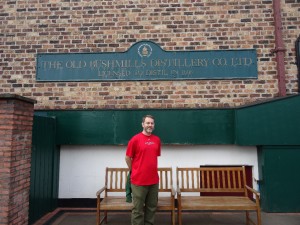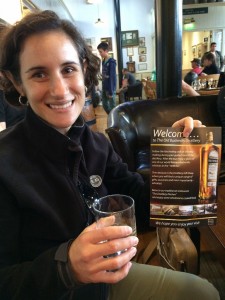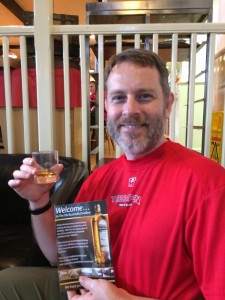 At around 4pm, we finally left Bushmills for the 4 hour drive to Ashford Castle. Up until this point, Ryan had been driving the entire time, while my job was to navigate and continually say "look right, stay left, you are doing great". Ryan is very experienced driving a manual, after having one for 14 years, so his major concern was just staying on the correct side of the road. I, on the other hand, can drive a manual, but am in no way very experienced at it, and haven't driven one in two years since Ryan got his new car. Needless to say, it took a lot of concentration for me to remember to shift and stay on the correct side of the road. Ryan only feared for his life for the first 30 min of me driving (or maybe just feared for the left side mirror, which I almost took off once or twice, staying a little too far to the left). He was very good navigating and providing positive reinforcement. Finally, I guess he got comfortable enough with me driving to take a nap, only to wake up once in a while, not to provide any useful navigation, but to say sleepily "you are doing great".
I should mention at this point all the features in our car, with which we are pretty impressed (list provided by Ryan): TDI, parking sensors, backup camera, engine auto-off when off the clutch in neutral, hill assist to prevent rolling in 1st gear, auto mirror folding, keyless entry & start, fully integrated entertainment system, adaptive cruise control (disabled), front & rear fog lights, and a pair of manually adjustable cloth seats that are miserable for the back, and very uncomfortable for both of us to drive. Oh well, guess you can't have everything.
We finally arrived at Ashford Castle around 9pm, sore from the car and exhausted. The amazing upgraded room, complimentary chocolates and sherry helped ease our pain though. A light room service dinner of soup and salad was followed by a quick bedtime in a very comfortable bed.