Ashford Castle is amazing! That pretty much sums it up. A big thank you to Janie and Jessica and Distinctive Journeys for booking us there for two nights. Totally worth it!
We woke up from the very comfortable beds to enjoy a slightly rushed but wonderful breakfast buffet; Rushed because we didn't want to be late for our Hawk Walk. What exactly is a Hawk Walk, one might ask. As I read in a travel book, it's the thing on your bucket list that you didn't know was on the list. Our guide told us all about Harris Hawks we would be flying, brother and sister named Beckett and Swift. The males are smaller, about 2/3 the size, of females. The hawks flew along with us as we walked through the woods, learning how to release and call them back . . . With food of course, mostly raw chicken parts, including feet and heads. This was an unexpectedly amazing experienced, that we are very glad we did.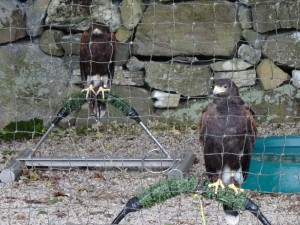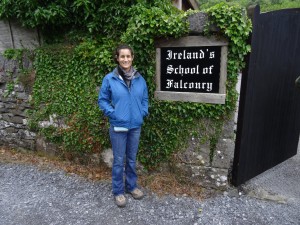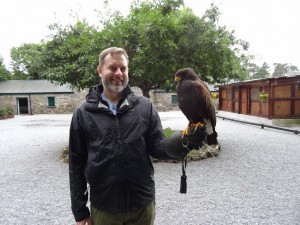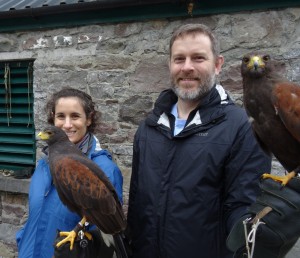 I had read about biking around the Castle grounds, so that was next up on the list. We first rode in circles (not purposely) on a bunch of short forest paths, stopping to walk down into a cave, until I got a bit cranky and we figured out where to go. From there we headed out to the Cong Village, passing by the Monk's Fishing Hut, St. Mary's Catholic Church (need to specify Catholic, since there is actually a St. Mary's Church of Ireland very close to it), and circling around the very small village. It started to rain rather hard by that point, so we headed back to drop off the bikes and get cleaned up for tea.  Think we have enough to eat?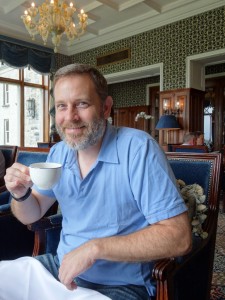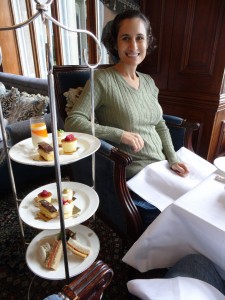 During tea, the weather had cleared up and was sunny again. To try and burn off some of the tea sandwiches, scones, and pastries, we want out for a walk around the estate, visiting the Old School House (apparently a private residence now), and the Walled and Terrace Gardens. The Walled Garden had a variety of herbs and vegetables, in addition to flowers, which are used in the castle restaurants.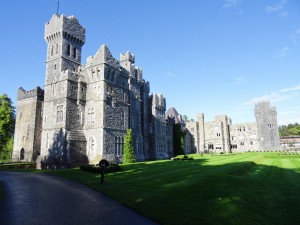 Just in case we were still hungry, dinner reservations were at 8pm at Cullen's Cottage, on the grounds a short walk from the castle. Definitely NOT hungry! We shared a soup, salad, and main, and that was more than enough food.