Another early morning . . . We woke up at 5am and left the hostel at 6 to drive up to Jostedal for a glacier hike. I previously mentioned that Norway was known for their tunnels, and we had driven through an 8km long tunnel. I quickly learned that was nothing! We drove through a 24.5km tunnel and multiple tunnels that had roundabouts inside of them!
The glacier hike took us on Nigardsbreen, one of the Jostedalbreen glacier tongues.  "Breen" is glacier in Norwegian.  Jostedal Glacier is the largest glacier in continental Europe.  The glacier hike was really cool! We were equipped with crampons and ice picks and fitted with harnesses. A large group was then hooked together with rope, so if one person went down, the rest followed. Ha ha, just kidding.
Due to low water levels in the lake at the bottom of the glacier, we first had a one hour hike out to the glacier. Three hours were then spent on the glacier, followed by another one hour hike back. Unlike New Zealand, where the entrance to glaciers were roped off, people in Norway can just walk right up and onto the glacier.
The hike was really cool (literally and figuratively). Walking over the deep crevices was the best part. The crampons dig really well into the ice. When we stopped for a break, I walked up a slope that was probably about a 60 degree angle. There was one person in our group who was very tentative crossing all the crevices, so it was very slow going at times. On the way back down, we picked up a person from another group who was also having some problems, which made it even slower going. We wouldn't have minded so much, except it had been 4 hours without a bathroom at that point.
Hiking on the glacier . . .
Some very large crevasses . . .
At the bottom of the glacier, there was an individual who had broken his ankle during the hike. Because it wasn't a life threatening situation, I feel that it's ok to say how fascinating it was watching the medivac helicopter come in, lower down a paramedic in a basket, fly back up, and then return again to pick the paramedic and patient.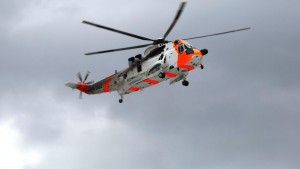 Between the glacier hike and hotel, we stopped at Jostedal Kyrkje, where Oscar's grandfather Lars Haugen is buried. According to Oscar, Lars used to carry mail across the Jostedalbreen glacier.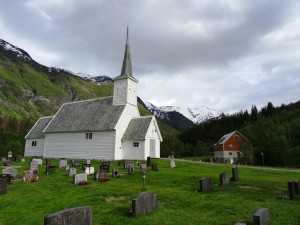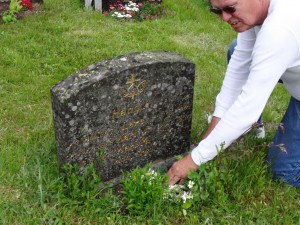 This is already getting to be a long post, but I can't end it without writing about the great hotel we stayed at that night, the Fjaerland Fjordstove Hotel. This hotel was a small family owned establishment, almost more like a bed and breakfast, situated right on the fjord. The rooms were quaint, clean, and comfortable. There was a large sitting area on the first floor, with windows out to the fjord, filled with antiquey books, photo albums, and games, in all different languages. From the sitting area, there was a door out to a wrap-around deck looking out on the fjord. Also on the first floor was a beautiful dining room, where we enjoyed a delicious 3-course dinner made with local ingredients. The menu included Juniper smoked trout with beets and horseradish cream sauce, lamb with cauliflower and pumpkin purée with mint yogurt and salad with grapes, and meringue with lemon curd fresh cream and berries for dessert. We ate it all before we remembered to take pictures.  What a beautiful place to relax after some hard glacier hiking!