Sunday morning, we packed up and headed out to catch the train to Budapest.
After wandering around the train station for a little while, getting some breakfast and coffee, we headed towards the track for our train. Good think we had left ourselves plenty of time, because it turned out we didn't actually have train tickets, just vouchers for train tickets. Off to the automatic ticket machines and information desk. After trying to get the tickets from the machine multiple times, as it appeared we should be able to do, Egg realized that the voucher number was not the same as the order number, and was able to follow the link in the e-mail confirmation to obtain the voucher number, at which point the machine spit out our train tickets. The train wasn't too crowded initially, and we were all able to stow our luggage overhead and get a good seat. The train ride was nice and went by rather quickly.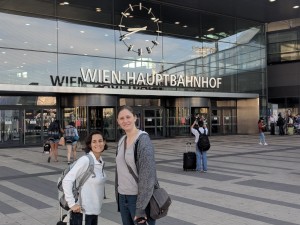 Once arriving in Budapest, we headed to the information desk in the train station to trade in our vouchers for the Budapest Cards. The e-mail vouchers indicated that the Budapest Cards could be picked up in the train station. Unfortunately, we had unintentionally purchased through a third party vendor, not directly through the Budapeast Card. The woman at the information desk was none to helpful either. It felt like talking with Turkish Airlines again. "Your vouchers are not in my system, I cannot help you. – Well, who can help us? – You need to go to the information desk in the center of Budapest. – Can you give us their number? – No, I don't have their number. – Do you run off the same computer system as they do? – Yes. – In that case, why would they accept our vouchers. – I can't help you, I don't have your vouchers in my system". After about 15 minutes of this, we decided to buy metro tickets and head to the office in central Budapest. The guy at the central office was very helpful, had studied abroad in Canada during high school, and took care of our Budapest Cards with no issue.
Off to the Airbnb. The original time to check-in to our Airbnb was 2:30pm. However, even with the Budapest Card voucher situtation, we were ready around 1:45pm and called our hosts Silvia and Gabor to see if we could check-in earlier, or at least drop our luggage off. The Airbnb was right around the corner from the information desk. Initially reluctant because Silvia was still cleaning the apartment, Gabor said we could come by now. Silvia met us and asked us, in her limited English, to all sit down at the table to wait for Gabor while she finished cleaning. Little did we know it would be an almost hour long check-in process. First, we had reserved the apartment (which sleeps 7) for only 2 people, and needed to pay extra money for all 4 of us. Egg and I knew when we booked it that the price was different with 4 people, but it always drives me crazy when the same space is more expensive for more people. I can see a little bit more money, required for the extra cleaning, laundry, etc, but it was almost 1.5x the original price for 2 people. Either way, it was still a good deal and in a good location, so we paid the extra amount in Euros. Gabor then talked at us for another 45 minutes. He gave us a tour of the apartment, showing us how to work the dishwasher, but not the washing machine, which would have been useful. He talked about the surrounding area and city sites. He explained how to work the air conditioner and that it would be 5 Euros a day if we used it. He tried to show us how to work the TV, but had problems, and we weren't going to use it anyway. He told us that they have a shuttle service and can drive us to the airport if desired (we passed). I can't even remember what else he told us, I think we just all tuned him out. Finally, he was done! We pulled whatever we needed from our bags and headed out to Buda Castle for the wine festival!
Through the rest of the trip, we realized that Gabor and Silvia must run Airbnbs as their primary business, and they also owned the apartment next door. It also appears that Silvia may be a doctor, as the tag on the door reads 'Dr. Silvia S'. Maybe she cleans Airbnbs in her retirement?
Kate and Egg detoured to the Matthias Church, while Ryan and I stopped for some food cause I was getting pretty cranky.
Ryan and I were rather disturbed when the guy serving our food first sneezed and coughed into his hands and wiped his nose before handing us our plates. Yuck! Ryan was sure he getting a cold for a day and a half after that. Prior to heading onto the Buda Castle grounds, we detoured to the Labyrinth, one of the sets of caves under the Buda Hills. The caves were pretty cool, and I wish there had been more information on the history of them. Instead, there were wax opera figures setup with music piped in. Very kitchy, slightly ridiculous, definitely not something I would recommend to Budapest visitors. Back up to the castle grounds. We double checked this time, the confirmations we had were actually tickets for the Buda Wine Festival, not just vouchers that needed to be handed in somewhere else for tickets.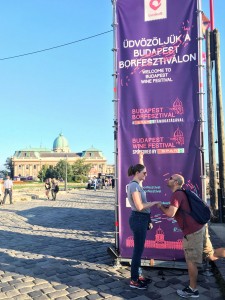 The Buda Wine Festival was a ton of fun! There were winery and food stands setup all over the castle grounds, plus small stages with music. We were able to get full or half pours for very reasonable prices and all enjoyed a lot of wine and good food. I stuck with the sweet dessert wines mostly, my favorite. Ryan was introduced to chimney cake, which he then proceeded to seek out for the rest of our time in Budapest. The Buda Wine Festival was a great place to celebrate the new year and Kate and Egg's anniversary.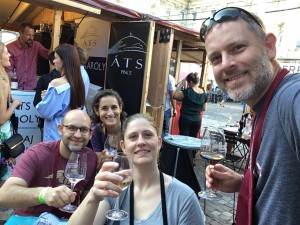 Shanah Tovah! Happy Anniversary to Kate and Egg! A great place to celebrate both!